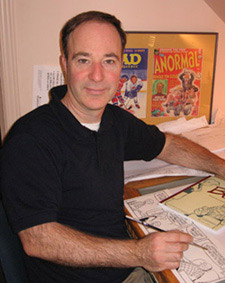 Born in 1965 in Quebec's Eastern Townships, Daniel Shelton knew very early on that he wanted to write and draw his own daily comic strip. Creating and publishing comics throughout his teens, he was awarded two consecutive grants from the Cultural Ministry to study at the Joe Kubert School of Cartooning in New Jersey and School of Visual Arts in New York. Before "BEN", Daniel worked as an illustrator for many years doing editorial and advertising illustration and magazine and book covers. His clients included Reader's Digest, Legion Magazine, Zellers, Air Canada, L'Actualite, Gillette and New Brunswick Tourism.
Daniel lives in Hudson, Quebec, with his wife Lorina, their three sons Nicholas (23), Michael (19) and Alec (15) and daughter Mia (11) their great Dane Nelly.
How did you get started in comics?
I've always been drawing cartoons in one form or another. My folks still have things of mine from when I was two or three years old. For me, it was a way of getting attention I suppose. And in return, for them, it was a way to keep me quiet. As a teenager I began drawing comic stories, and developed my first strip by the age of sixteen. A few things got published here and there and I slowly began making money using my drawing skills.
What were your earliest influences?
When I was growing up, my neighbor across the street, Mr Jackson, would get the Montreal Gazette everyday and would put aside the comics section for me. It was a great learning experience and basically led to my wanting to do this for a living. This is where I first read Jeff McNelly's SHOE and Lynn Johnston's FOR BETTER OR FOR WORSE. A friend lent me Berkeley Breathed's book BLOOM COUNTY which also had an influence on me.
But since I grew up in French Canada, many of my influences were also European. Artists like Andre Franquin or Herge are among many that I still enjoy to this day.
I shouldn't forget to mention the many sitcoms I watched growing up as well. These were a great learning ground for timing, reactions and situations.
Are Ben and Olivia based on real people and where do you get your inspiration?
The idea to create a strip where the main characters are seniors came quite a while ago; even as far back as when shows like the Golden Girls or Cocoon were out. I only returned to that premise once my own parents and neighbors were becoming grandparents and easing into retirement. Together with my parents, Ben and Olivia' personalities are really a mix of myself and my wife (although none of us sports a mustache). This makes coming with up with ideas and situations easier, as I can take from our own daily lives and transpose them into the future, into a time where we might be in the same situations as Ben and Liv.
Needless to say, having four children of my own and working from home also combine to give me all the ideas I can use…
What is a typical day/week for you?
Well, writing is the most important and also the most challenging part of doing a comic strip. But before I can get to that I need to take care of other BEN related things.
Generally on Mondays I translate a week's worth of comics into French for all our French newspapers, answer fan mail and other correspondence such as requests to be a guest speaker to certain events. I also prepare and color comics that are appearing in magazines such as Le Bel Age and Good Times, or put together strips for whatever upcoming book is about to be published. There deal with requests for permission to reprint comics from newsletters and book publishers and I also collaborate with Lorina on adding to the website.
When all that is done I write all of the week's strips. So on Tuesday mornings I try to find a quiet place somewhere in the house, cup of coffee in hand and let myself daydream. Most of the time this works fine. Next comes sketching and breaking down the narrative of the ideas. I will pencil all these ideas and show them to my wife, Lorina. Her reaction and feedback are crucial in letting me work out whether these ideas are going the way I want them to. Once these are approved, final drawings are done and then inked with a brush. The lettering is done by hand, using a pen. When these are completed and proofread, they are scanned into the computer and e-mailed to all the different subscribers.
What do you enjoy most about your work?
I feel very fortunate to be able to work from home and to do something that I love. Beyond that, it is the daily contact with readers that I enjoy tremendously and the privilege of being able to reach people in their homes, sharing stories and hopefully a smile.